Unflappable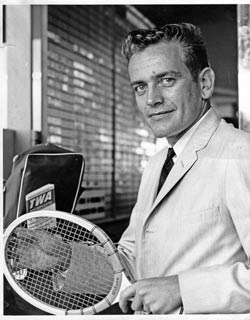 Who Should Read Unflappable?
Anyone who loves a good read.
Unflappable gives you a look into the pro tennis tour of the 1950's and 60's – before coaches, the paparazzi, and monster purses. This was a time when the some of the best players in the country were forced to hitchhike from one tournament to another. It was a time when a certain player had to give his trophy to a toll taker to be able to travel on the interstate. It was a time when the best players on the tour played for the love of the game.
Unflappable introduces you to Whitney Reed, the number 1-ranked player in the United States in the early 60's. Unflappable lets you experience pro tour life through the eyes of a real-life, unabashedly original character. Even if you are not a tennis player, you may be captivated reading how someone could survive a whole life time in our society doing exactly what he wanted to do, without guilt, conscience, or a visible means of support.
If you are between 30 and 40 and a tennis player all you have been exposed to is tennis pros whose entire lives have revolved around tennis. These players come from tennis academies where the goals are: win tennis matches; make lots of money. These players have been pampered, isolated, and sterilized. Their public persona is well monitored; they have coaches, trainers, financial advisors, and social directors. You may enjoy Unflappable's fresh look into the tennis world of a simpler time.
If you are between 50 and 60 and a tennis player you definitely noticed the transition from amateur play for gold trophies to professional play for very large purses. You may have been aware of Jack Kramer's single handedly changing the financial face of tennis. You may have heard of Whitney Reed, and you may have even seen him play. Unflappable may bring back some memories of, maybe not a better time, but a different time in tennis history.
If you are between 60 and 70 and a tennis player, you do know who Whitney is—unless, of course you played your tennis in Appalachia or Nova Scotia. If you witnessed one of his matches, then you experienced about as much fun as can be expected from a tennis match. If you played against him, you may have experienced a very frustrating time and lost very badly, or you caught him in-between escapades and possibly won a match. Either way, playing or watching Whitney, the number one tennis character in the tennis world, was like reading a Ludlum thriller. You could never be quite sure of the outcome.
If you are not a tennis player -- maybe not even a tennis follower – read the book anyway! You may find it a real kick.
Moderated by Whitney Reed
Whitney's buddy Jackie Cooper
has a unique tennis perspective
He says, "Play More, Win More, Have More Fun."
Far in the future, when the Grim Reaper strolls on the court and says, "Jackie, you are about to hit your last mid-court volley" it would be terrific if, at that moment, all of life's mysteries were unveiled. Personally, I'd like to know the truth about the Kennedy assassination; I'd like to know what happened to Jimmy Hoffa, and I'd love to understand why a no-mans-land, and swinging volleys strike fear in the hearts of most tennis players. So, in the next 1500 words, I'm going to try and convince most tennis players that no-mans-land is not such a scary place, and swinging volleys are not just for player with world rankings.
We as tennis professionals want everyone to improve their play, win lots of USTA matches, have fun, and spend more money taking tennis lessons. We are out to improve everyone's play, from the housewife's backhand to Rafael Nadal's half volley. I personally favor a more aggressive style of play. Aggressive, in that as we grow older we don't move in the cat like fashion of our youth. We need an edge. We need a way to play competitively without having to spend a fortune on medical care for our arthritic knees. In my soul, I feel that learning to play in the mid-court will extend your tennis life, increase your winning percentage, and actually makes tennis more fun.
I say these things because my life is tennis. I think more about analyzing players' technique, strategizing matches, and dissecting tennis mechanics than I do thinking about girls.

STAY OUT OF NO-MAN'S LAND
Most tennis pros say, stay out of no-mans-land---that dreaded area from the service line to a couple of feet inside the baseline. Most tennis pros say being caught in no-mans-land is more miserable than a toothache. They say the ball will be non-returnable, because you can't return a ball if it hits you in the shoe laces. They say the best thing you can expect is a lucky 1000 to 1 carom off the frame of your racquet for a winner. They say the worst thing you can expect is the humiliating experience of witnessing your ball ricocheting into the grandstands.
I call no-mans-land the land of opportunity. A place where a player can move to at a convenient pace, cut off the angles, pick off passing shots, and be in a better position to put away lobs. To be successful in the land of opportunity, a player needs to overcome a few basic prejudices. First, the player needs to realize that hitting the ball to the corners may not be the best tactic. A ball hit deep to the center of the court affords your opponent a limited choice of returns, and no tight angles. Second, the player needs to over come the fear of the half-volley. Third, the player needs to realize that volleying from behind the service line is not a shot restricted to players that have a world ranking of 100 or better.
SWINGING VOLLEYS ARE FOR MAC ENROE AND FEDERER AND ANYONE WITH A WORLD RANKING OF 50 OR BETTER
When I watch the best volleyers in the business, I don't see a lot of charging the net, coming to a complete stop, holding the racquet up, and allowing the ball to ricochet off the strings---not in Kentucky, and not in any place that I ever played. I see the ball being hit with a slight shoulder turn on both the backhand and the forehand. The stroke is short, firm, and concise.
At my club in Palm Desert, I tolerate, and even encourage alternative teaching techniques. Any pro can teach anything they feel is worthy. I reserve the right to interject a few salient comments if I don't agree with what I'm hearing. (Hey, It's my club) But, before I jump in with my two cents, I consider the mind set of the students. If everyone is giggling and having fun---no harm, no foul.
As long as the students are pleased with their progress, they can stand on their heads and hit volleys. I appreciate the clarity of the game, so I'd probably try and help the student with the head-standing affliction. However, if winning is the most important consideration, and if the head-standing player wins consistently then far be it from me to be critical.
A problem arises when a student is losing consistently and questions the effectiveness of his/her volley. Nothing makes a student more fickle than losing. They grab the phone book and start with "T" for tennis teaching professionals. We, as professionals, better have an alternative solution, because all the exercises and all the explanations known to man are useless if they don't help the student win a few sets now and then.
I try to impress upon my student the value of relaxation. I have them hold the racquet comfortably at 45-degree angle, shoulders, elbows, and wrists relaxed. As I feed a forehand volley, I ask the student to turn their shoulders, take the racquet back, and strike the ball with a short punching action without a follow through. I ask them to hold the racquet rigid momentarily after the ball makes contact with the strings. The idea is to stress fluidity in preparation and rigidity at impact.
If the ball is high to the forehand, a topspin shot is effective. As a drill, I have my students alternate, the short swinging volley and the topspin-swinging volley. If a student continues to hold the racquet out like a big paw, I give them their money back.
WHEN ALL IS SAID AND DONE
In Kentucky we say, let's beat the pants off the guys on the other side of the net. We don't push a volley at our opponent, we stroke it pass them, through them, or around them. We don't let our opponents have easy passing opportunities. We make them win points the hard way, by earning them. We aren't out too make our opponents look good; we are out too embarrass them, humiliate them, and send them back to their club pro demanding a better game.
Jackie CooperJackie CooperJackie Jackie Cooper